more than a piece of cane… a family story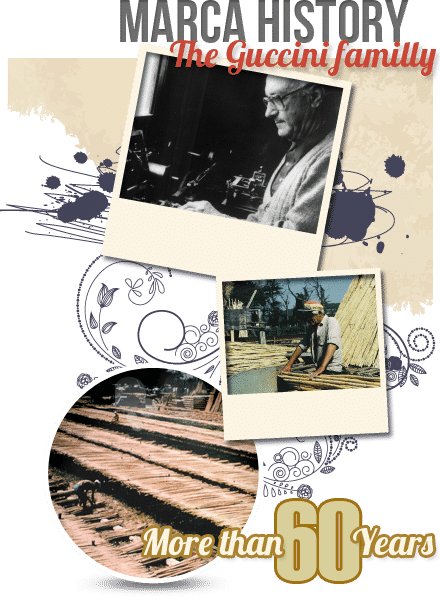 MARCA REEDS HISTORY
From the beginning…
Five generations of expertise in the art of growing fine French cane.
The Côte d'Azur, or Riviera, situated in what is known as Var region, is certainly among the most beautiful areas in all of France. Crowds of tourists flock annually to this Mediterranean paradise to enjoy its perfect climate, bask on its white-sand beaches and gaze at its breath talking azure sea and sky.
As these travalers pass through the towns and villages that dot the southern cost, they may be unaware that it is here where the world's finest musical instrument reeds are manufactured. It is here among the fields of cane that grow so plentifully that the Guccini Family has devoted five generations of expertise to the art of growing fine French cane and crafting it into the delicate sliver of wood so many musicians depend on for their livelihood. Marca make finest reed for finest artist.
…Up to nowadays!
Clarinetists and saxophonists of the world over can enjoy the experience of playing Marca reeds…
Over the past 60 Years, with the combination of its skilled work force, modern equipment, strict quality control, and constant testing by renowned professionals, Guccini's Marca company has discovered the secret to producing reeds that have become the new choice of discerning wind musicians.
Whith meticulous care in all stages of production, Marca's recently improves manufacturing method combines skilled craftsmanship with modern technology to produce superlative reeds at a competitive price, making them equally well suited for student or professional use.
Marca uses only the finest French cane, painstakingly selected and aged for optimum quality. Today, clarinetists and saxophonists the world over can enjoy the experience of playing Marca reeds, made from the finest cane by the most exacting craftsmen.